An Indepth Lesson About SEO for Small Business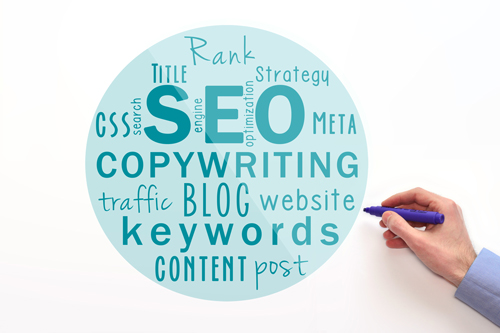 Search Engine Optimization or SEO is important for your small business because it includes steps, that come after your website is launched, that help search engines, like Google, Safari, and Edge, find your business, and deliver it as a suggestion to people looking for your product or service.  Where many small businesses get into trouble, is that they fail to really understand how SEO really works, so they either ignore important steps that could really help their business or overspend for very little results.
It is time for that to end.
This article is designed to help you understand what SEO is, and how it can work for your business.  It also addresses some common mistakes we have encountered and several rules for you to follow that will help you invest your money wisely and ensure that your business has the greatest potential to be found by your customers.
Now before we dig into some key tips, it is important for you to understand the three different parts that are often included in a discussion about SEO:
#1 –  Paid Advertisements
Paid Advertisements are the business links/listings that show up at the top and/or bottom of a Google Bing or Safari Search page. Sometimes they are marked with an "Ad" indication next to it, but not always – it depends on the browser.  Paid Advertising includes a process of identifying specific keywords in advance that you want to be assigned to your Ad.  The theory is that when people enter those keywords into the search bar to find something, your Ad is included in the results delivered – if there is room on the page.  The cost to advertise on a network like Google can vary based on the value of the keyword(s) and where you are advertising.  On average, our experience has been that ads on the Google Search Network cost approximately $1-2/click.  (For now, just realize the overall of how this should work.  We will circle back with more details and precautions later in this article.)
Paid Advertisement Example:
This example of a Google Paid Advertisement is identified by the word AD that shows before the actual ad information.  Paid advertisement spaces are available at the top and bottom of a Google search page results.  
#2 Location-Based Listings
Location-based listings have to do with the mapping programs (like Google My Business Page and Maps program) and the programs that utilize your location like directory listing websites such as Yelp or Yellow Pages, etc.  While they offer you a free listing that you can claim, they too will offer similarly priced Paid Advertising options to get extra features for your listing or better placement on a page.
Location-Based Listing Samples: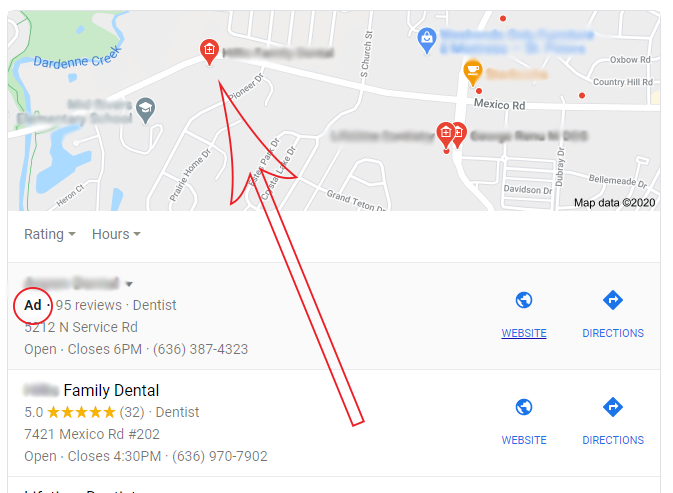 The image above is an example of a Google Map listing that is tied to a Google My Business page for the business.   It shows the location on the map and advertisers are identified by the word AD.  Other nearby listings display below the advertiser.  
The image below a listing for YP.com (Yellow-Pages).  The listings look very similar, but in the normal listings, those that are paid advertisements show up above the free listings.  Additionally, Ads show up on the right margin of the page.

#3 Organic Placement
Organic placement is a multi-faceted approach and has to do with your business continually developing web content (via a blog, web page, or video) that specifically targets keywords or keyphrases on topics of conversations you may frequently have with customers.  The goal here is to use this information like little tree limbs off your web page to help grab a customer's attention and bring them back into your web page.  This strategy improves your site's chance of being found in an "organic" or non-paid way.  This strategy may take a bit longer in time to prove beneficial, but when done well and regularly, you have new and intersecting information to share sooner on via social media and email marketing.  It also creates more effective pages and content to then use for ad conversion.
Organic Placement Sample:
This image shows a Paid Advertisement at the top of the page, and then immediately below another listing is present without the "Ad" notification.  Those listings without the "Ad" are considered "organic" listings.  Now depending on the topic that you search, this section may also fall below the above referenced "Location-Based" listing, but typically anything without an "Ad" notice prior to it is considered "organic."
For now, know that while each of these strategies has its own purpose. When consulting with an SEO specialist, it is likely they will recommend a combination of these efforts to create a comprehensive approach in helping your business get found in search results.  That said, in some industries, the competition is tough, and advanced SEO measures may be required; but for simple conversation, the success of any SEO strategy really depends on the quality of your website, the competition in your market, and the budget you wish to spend to maintain a strong placement.
6  Rules to Follow About SEO for Small Business
To help you avoid some common pitfalls, here are some general "Rules to Follow" with some real examples of how or why these are important to get the most from your SEO investment.
Rule 1:  Avoid Paying for Advertising Without a Solid Plan on the Website.
We had a micro business that came to us dabbling with $500 per month on a pay-per-click advertisement with Google AdWords.  After spending $2,000 for little return, they reached out to us for a consult to see what they could do to improve their results.  In the review of their process, we discovered that they had done a good job of creating an advertisement, and they were obviously getting clicks because they were spending through their ad budget.   With everything else working adequately, we knew it had to be something in the conversation that was wrong.
With only 3 seconds to make a first impression, what you have to say, and how you say it really matters.  Sometimes, business owners use words that they think to sound impressive in their website copy but can be too technical for the end-user to comprehend quickly.  Another mistake we see is when they drop visitors on the home page and expect them to navigate to find the information they thought they were going to get when they left Google.
In this case, the customer directed all his traffic to the home page.  This meant that to find what the Ad discussed, they had to begin navigating their site.  That's like in a baseball game, the center fielder throwing it to left field before throwing it home to get the out.  We needed to cut out the middle man, and just get the job done!
The result we created was improving the flow of the conversation started with the Ad, and make things more simple for the end-user.  Doing so, created a 15% increase in their campaign results the following month which was a much better investment in their advertising dollars.
Rule 2:  Start Slow with Keywords
Ad programs are built in a way that allows them to track the usage of search terms, as well as the number of clicks they receive.  After your ad begins to run, Google AdWords will make "suggestions" of keywords that can be easily added to your campaign.  If you are thinking that your budget will gradually carry you through the entire month, creating a slow-drip of new business, then we strongly recommend avoiding the temptation to begin adding all kinds of keywords.  Why?
Adding more keywords may seem logical and somewhat exciting; especially if a program like Google suggests it.  But adding too many keywords without also increasing your budget may set you up for failure.  Why?
Well, the more keywords you use, the faster you will burn through your budget.  Without money to spend, your ad will stop showing altogether.  To get better, more consistent performance from your Ad budget, we personally recommend sticking to just a few keywords then better manage/monitor the performance of your ad.  This allows you to better follow the use of the ad and the exact keywords that are working on helping capture and convert leads.  It also allows you to target where you may need to make improvements in your sales process.  This process gives you a good foundation for starting your ad campaign and working out bugs before you jump too quickly and burn through your budget allowance.
Rule 3:  Claim Your Listings, But Start Where You Know You Can Get Clients
There are literally thousands of directory programs available online.  Adding your listing to these directories could take a person an enormous amount of time to do manually.  Therefore, some SEO experts use programs that will "update your listing in all of these platforms", but, before doing so, you should really ask two questions:
Do you really need to be everywhere?
What happens if you stop paying them to manage this service?
My answer to #1, is "No."   Again, it may sound like a great idea to have your company information in few thousand directory listings, because it can create a backlink to your website – which is good, but you have to think of where these directories are, and more importantly – are they credible. To be truthful, if their audience is far from your ideal audience – why bother?
For example, if you are a local restaurant in small-town USA, it is highly unlikely that a directory listing that delivers information to the EU will really benefit your business, so not worth it.  However, if it is a directory in the USA, it is worthwhile, but make sure it has the right audience for you.  For example, we were contacted by Yelp a couple of years ago to do advertising on their site.  We tried it but found that the few leads we received from Yelp were from foreign countries wanting us to do questionable, or borderline unethical projects.
Long story short, our ideal customers were not using Yelp to find us, they were using Google, LinkedIn, or referrals from our existing customers.  So, even though we have a listing on Yelp, we personally never received anything of value from this platform but other customers of ours, like restaurants or salons, have done fine.
The moral here is to ask questions.  It is reasonable to ask for details about their audience and how others in your market have performed with advertising.  In fact, ask them for references you can call to verify their information.  If you can, call your competitors that you can see are advertising.  (You don't have to tell them who you are.) Explain that you were considering advertising on this platform and they directed you to them as a reference. Ask them, "are they satisfied with the quality of leads they were getting" or "if they were satisfied with their results?"  You have control over how you spend your money and have every right to question the details before making a commitment to advertise.  Better now, than later when you wish you would have done so!
My answer to #2, is "You have to make changes on your own – but do you have access the account?"  Again, this may not even be necessary if the directory listing has no value to your target audience finding you.  But if you hire a company to claim your directory listing, do they set up an account as the business owner or as a representative of the business owner?  We have experienced some cases where the SEO company acted as the business owner, and after parting ways, now blocked the business owner from making critical updates down the road to their listing, because they were unaware of the login credentials.  When engaging in this type of strategy, we just recommend that you proceed with caution, ask questions, and do what makes the most sense for your business.
Rule#4:  Be Cautious About Anyone Guaranteeing First Page Placement
I have encountered incredibly talented SEO professionals who have developed a solid strategy of being able to deliver fairly consistent placement in keeping a company's website on the first page of the search results.  However, the cost to hire such professionals can be awfully expensive – (like a few thousand dollars each month expensive).  Why?  Simply, the time to manage this type of placement requires both unique skills, tools, and constant management.
Where I caution the average small business owner is when someone offers you this type of premium placement for a really inexpensive rate.  I feel pretty confident in telling you that it may be less than a legit situation.  Why?  There are literally so many variables involved in a true functioning strategy – to do it right means time + skill which often = price.  Now we have seen companies who offer "guaranteed first-page placement" but are only taking care of one of the strategies identified above to help keep costs low.  Their strategy is come in low and then when they have you hooked, they will continue to ask for more money to get better placement.  While it is a growth strategy that works, it depends on your budget and immediate need, so we recommend that you set goals on exactly the tasks they should be doing for you each month before making an investment.  This gives you the option to double-check their work and integrity, before moving onto the next step.
We also recommend you are cautious of providers who require up-front payment but avoid regularly connecting with you for updates or reporting in some way,  what you are getting for your investment.  This is part of the reason we explained early on various parts of SEO, is to help you avoid being scammed.
We had one customer paying $250 every month for SEO services, but zero clues as to what she was getting in return.  She used to see ads running but had not seen them in a while.  Additionally, her main web page was now on the second page of results, so she had reason to raise concern.  We consulted with her about specific questions she should ask her provider to determine their strategy or activity.  Turns out, they were unaware the ad had dropped months ago and apparently were simply taking her money without any return for her investment.  Well, needless to say, that relationship ended quickly.
The solution in this situation was simply seeking my advice through a consult.  Technology is an ever-changing thing and unless you have a general understanding of what is going on, it can be very easy to misunderstand or lose sight of what needs to be done.  In this case, the business owner was unclear on what to ask her provider to know by his response if he indeed was doing a good job.
Realize that it is totally okay to ask for timelines or a written list of expectations of the work to be completed and question technical terminology that is new to you.  If the provider is uncomfortable with giving you details, then I would question their integrity.  The important thing is to find a way both you and your provider can validate the work to give you peace of mind and confidence in your investment.
Rule 5:   Professionals Can Actually Save You Time and Money
Click Fraud is a legitimate concern for advertisers.  It is the thought of someone, like your competition or another advertiser, simply clicking on your ad repeatedly so you burn through your ad budget and fall off the search page so their ad can dominate the placement.  Essentially, you spend the same amount of money, but with empty results.
Unfortunately, this is a legit thing and does happen.
While Google has taken greater preventative measures in watching for such activity, I would be lying if I told you that there was a solution to avoid this challenge.  But – to be honest – there has never been a fool-proof way that I have encountered to prevent this from ever happening.  There are "tricks" and programs that seasoned advertisers can utilize to minimize your risk, but there are still risks that it can happen. That said, one of the tricks is knowing how to block specific IP addresses in the settings of your Ad.
We had one client, who asked us to run an ad campaign to draw traffic to his new website.  He was so excited to see his company website at the top of the search results that for the first day the ad ran, he showed his staff and friends the result of a search for his business and he kept clicking on the ad to get to their new website.  (Dough!) 
Turns out, by properly monitoring the ads, we noticed the consistent website visits from one particular IP address in the ad reports that apparently had zero conversion.  Funny thing, we also recognized it was his IP address since we just updated a security setting on his website that required his unique IP address.  With a simple conversation, we were able to inform him that with each click he made on his ad, he was paying Google to take him to his website instead of scrolling down just a bit and actually clicking the direct link to his page.
While we saw by the reports that his behavior changed; just to be safe that his staff avoided the same error, we included an IP Exclusion in his Ad set-up which kept his ad from displaying to his office IP address.  Granted, we had to inform him of this change to avoid him worrying when his ad was absent from the page, but he did appreciate that we were watching out for his investment and teaching him a few new things about technology along the way.
The moral of this rule is  – yes, while often times it seems like there are great savings to be discovered when you can "do it yourself"; be it advertising, web design, or anything with technology, there is much to learn.  Sources like YouTube and can be helpful, but the time you waste searching for the solution, then implementing the strategy, may ultimately cost you more than what you may spend hiring a professional to get the job done right on the first try, in a fraction of the time.  Just consider your costs ($ out-of-pocket and time invested), and evaluate how you might benefit from someone helping you before you dig into hours of what could be ongoing learning.
Rule #6: Learn How To Set-up Your Pages Correctly Before Creating Content
Creating additional content for your website is really helpful for a variety of reasons.  In addition to SEO, and having something to share on Social Media, it creates a way for people visiting your site to learn more about you, your company, and maybe even help them experience your personality to help them see how you might be different from your competition.  It also gives your website branches – like a tree – to reach new people in different ways based on the topics they are searching for.  That said, if you are uncomfortable with writing, you can work with copywriters to help you create content.  If that's the case, or even if you do it yourself, it is best to learn how to set-up your pages correctly for the search engines so your efforts and investment counts!
To set-up a web page or blog post correctly, you need to consider on-page SEO steps that will help the search engines better categorize, deliver and display your content to the right audience.  This includes a few technical steps, like proper html-markup on the header tags of your website, efficient use of your keywords/keyphrase, and appropriate use of links and images, just to name a few.
Depending on the method for which your website was created, there may be tools or plugins that help simplify this step for you.  With WordPress, we use a tool called Yoast SEO.  It is my favorite because of the way it guides you really helps teach someone just starting out what to do to improve their page.  Before too long, you just know what to do, and creating content can become a breeze.  In fact, knowing how to write for On-Page SEO (also referred to as page optimization) is a real talent that anyone can learn, but everyone should practice to get the most value for their investment!
We occasionally hold courses on how to do this, so if you are interested in learning, please submit a request and we can keep you informed of when the next group class will be held.  Additionally, if you prefer to learn sooner, we can always schedule personal training sessions.
###
My hope is that by sharing this information, and real lessons learned by our customers or those we have consulted, that you can begin to take measures to expand and grow your business using the great tools available to you through the internet.  While we would love to be your service provider, I am also available for personal training or a conversation to consult with you on ways to help you improve the performance or relationship with your current providers.  The best way to contact me is through our Contact form or a DM through LinkedIn.
Until next time, "get out there and prosper!"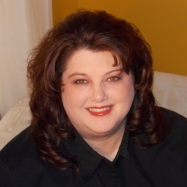 About the Author:  Julia R. Eudy is the founder, C.E.O. and Communications Specialist of Golden Services Group, LLC. Her 30+ years career experience in the sales and marketing field and life-long hobby of analyzing behavioral traits and why people act the way they do, have led to her success in developing digital sales funnels and interpreting data analytics that quickly grow your business.  
NEED SOME ADVICE?


Schedule a Consultation Today?