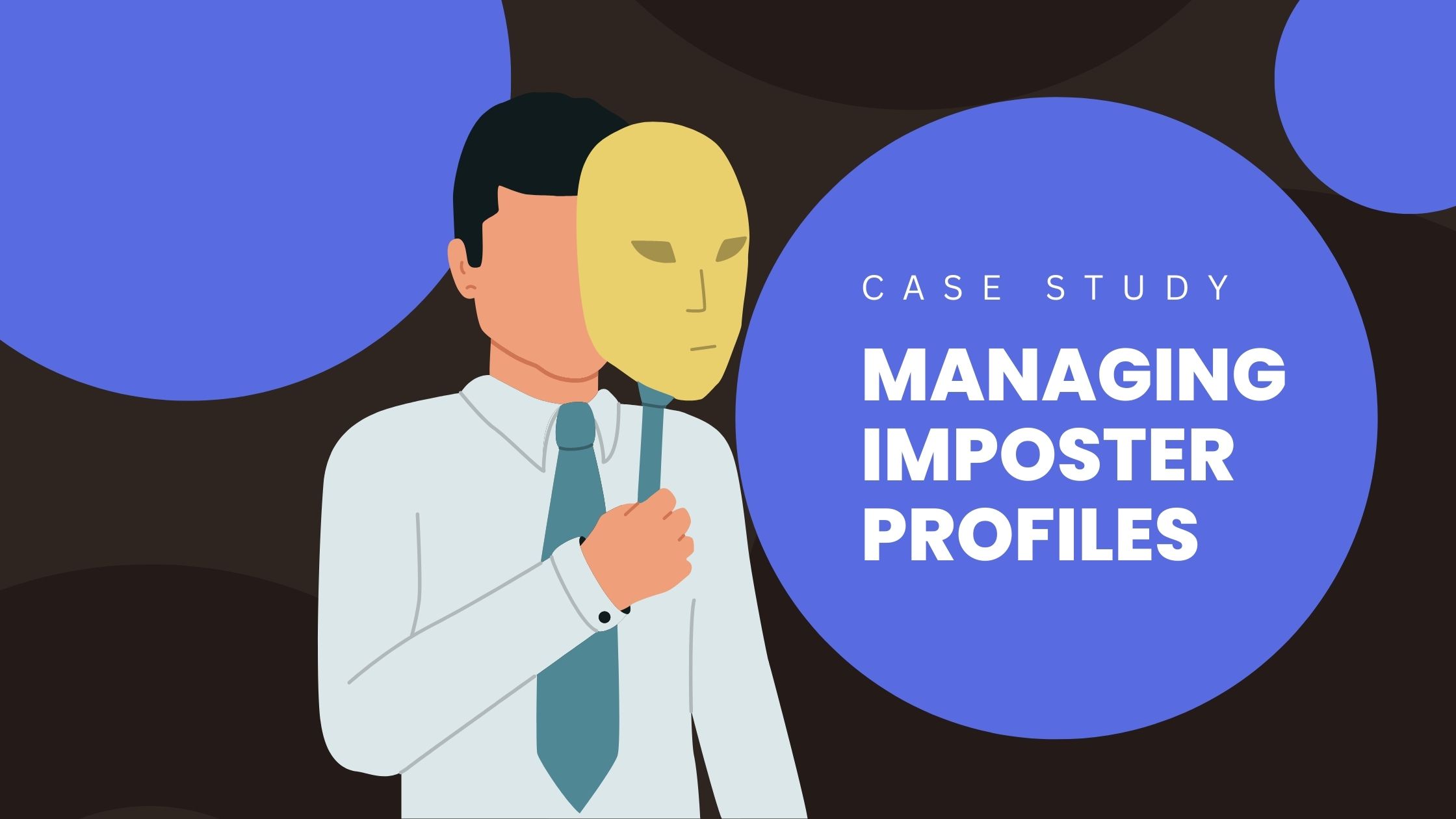 What are Imposter Profiles?
Imposter Profiles are when someone steals your logo or company information to establish an online account, and essentially "pretend" to be you or your business. In most cases, these are through online merchant sites or apps that allow cash transactions, but we have seen it happen on social media accounts like Facebook, Linked In, Etsy, and Food Ordering/Delivery Apps. During the COVID pandemic, we have encountered this more frequently with the small business community. The goal of this identity thief is to offer similar goods or services that your company provides, in hope of intercepting the money and either delivering nothing or delivering a less-quality product/service to your potential customer.
The unfortunate result is an unhappy customer for you to handle. Depending on the situation, that customer may leave negative comments about your business or call with complaints about orders you have no record of filling. In all cases, it simply creates an unnecessary headache for your business or brand
How to Protect Your Business from Imposter Profiles
The best way to protect your business from Imposter Profiles is to become keenly aware of where your brand is listed, and creating a regular schedule of monitoring these sites for anything that looks suspicious.
Especially during the COVID Pandemic, we saw many small restaurants and bakeries who moved to online orders and delivery services encounter this challenge. One client had someone physically come into her location frustrated that their order online was never delivered, only to find out that they placed their order with GrubHub and the establishment actually never had any part of the order process. Looking online, the customer never would have known the difference, but the Business Owner quickly knew that they never authorized their business to be on that platform so she was quick to contact them and ask for their profile to be removed. – Julia Eudy, CEO Golden Services Group
Here's another example of a bakery in Florissant that ran into this situation. In this case, our own Julia Eudy was contacted by Zara Barker, a reporter for the local Fox Affiliate to provide some expert guidance for business owners when this story originally aired on February 4th, 2021.
Key Tips To Consider for Business Owners
If you are a Grocery Store, Restaurant, or Bakery, be sure to watch for the Apps that particularly promote free purchase and delivery.  Free ones like Swiggy Food Order, GrubHub, Delivery.com, Seamless, Deliveroo, and Railestro take cash orders and are targeted quite frequently by Scammers.  We suggest making a regular habit to check these sites for your company information.  If you have authorized your business to be on these sites, then fine, but we still recommend you check it frequently for multiple listings and incorrect information as your pricing and offers may change.  If you find a profile representing your company that you did not authorize, you have the right to contact the developer and request that it be removed to reduce any risk of confusion for your customers.
Do a Google search on your business name and see what comes up.  Many Directory Apps were designed using data provided by local telecom companies, so if you have a directory listing somewhere in one, it is likely in many.  If it makes sense that your business is listed in that community (meaning, it seems reasonable for your target audience to use this directory/app to find your company – like Google Pages or Yelp) then we suggest claiming your business profile listing by creating a free account with the directory/app and maximize the profile options allowed for the free setting to help promote your company.  If it costs, money to promote your business – first confirm if it is a valid resource to reach your audience.  If so, then it might be worth the cost to upgrade your account.  If it fails to be a reasonable means to reach your target audience, then you have every right to request your information be deleted and removed from their files.
Plan for a Regular Brand Search.  As things can change frequently on the internet, it is best to set a regular habit for yourself to monitor the digital footprint of your company brand.  If you do rely on online orders in some way or another, we recommend that you do this more frequently – like bi-monthly or monthly. Otherwise, if your online brand is only represented through retail outlets, it is still good to do a regular search to monitor how your brand is represented.  How frequent will depend on the popularity of your brand – the more popular the brand, the more frequent your search should be.
If your company logo or brand is trademarked, it is especially important to make sure you perform regular searches, especially for image use.  I have seen product pictures and entire websites stolen and duplicated and being used to promote services in other countries.  While managing those situations can be a little more tricky, eliminating confusion for your customers and managing your business reputation is hugely important. – Julia Eudy
Key Tips To Consider for Consumers
If you are a consumer and you are using an online App, look closely at the details.  Look for misspelled words or information that seems "off".  If you are unsure – look them up online and call the merchant before just submitting an order through an app.  Especially during the COVID Pandemic, restaurants had to let go of staff so quickly, that they may not have had the time to update some profiles with accurate information like hours, delivery, etc.
Avoid paying with Cash to limit the risk of theft.  It is best to use a major credit card for online purchases, so if there is any funny business going on, you have the credit card company to help support your finances.
Be careful of delivery/pick-up options.  If someone asks you to "meet them in a parking lot" or anywhere other than the curbside of the retail establishment, it might not be legit.  Most legitimate companies have either turned their wait staff into delivery drivers or have them on hand to help them manage curb-side orders.
Be less quick to write a bad review – and quicker to be a kind human.  Most small business owners on a good day, wear many hats.  Throw in a pandemic, being short-handed, and working everything you have to stay in business, and it creates an environment for mistakes to happen.  Before just jumping out online to express your frustration and leave a bad review, perhaps call the business owner first and see if they are willing to make good on the mistake in some way reasonable for you both.  Many will offer to replace your order now or give you savings on your next order.  Taking a moment to be human is always rewarding if not on the outside – on the inside.
If you have questions or need assistance with managing an Imposter Profile, you can reach out to Golden Services Group for Free help through our Email Coach program.